The Bikes: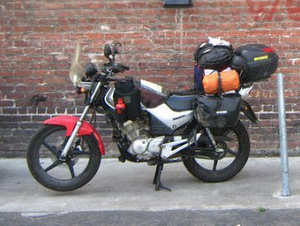 For economical reasons, I ride a small bike.  At first this was "Rudolf" a Yamaha YBR 125cc motorbike; this bike was phenomenal!  Slow by motorcycle standards but quick enough, and it managed unbelievably well considering the bad roads it took on.  Above all its fuel consumption was brilliant.  It was fuel injected – being a European model – and managed up to 50km on one litre.  This meant a great tank range with the standard 13 litres, and I rarely needed to carry extra fuel.

In Guatemala, with something over 90,000km on the clock, the Yamaha died, a long story, and mainly my fault.  I switched to a Honda XR125L "Rodney" and have regretted this really (For info on buying a bike in Guatemala see the FAQs page).  The fuel consumption is much worse, being carbureted, attaining 35km/l at best (less than 24km/l at times rivalling some 650ccs!).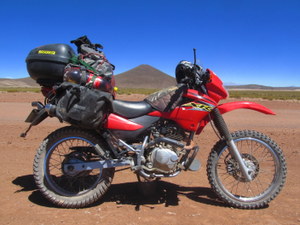 Ancillary parts on the Honda seem to have worn out consistently quicker than the Yamaha, which itself needed hardly any maintenance at all.   In fact, the Honda performed better with non-OEM parts to the point where I would only ever buy Honda OEM for engine internal parts (otherwise aftermarket), bearing in mind it is a Chinese built 125cc not a Japanese built higher-end Honda, where I am more certain OEM is recommended.
Finally with 72,000km on the clock the Honda's third gear broke and I rode the remaining 8k without it (luckily all low altitude).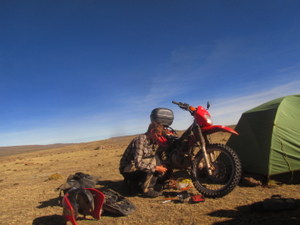 Also, I found the Yamaha a bit nicer to work on, air filter behind the side panel, and the valves easily accessible, whereas the Honda needs the side panels, seat, tank and exhaust-gas recycling tube removing (something I considered removing completely to try and aid high-altitude combustion).  I also had numerous small electrical glitches with the Honda, which nearly got me into a lot of trouble.
Also, Honda shops seemed to staffed by snooty pricks, whereas Yamaha would stop all work to help me out at a discounted price, even stripping store models to get needed parts.
The Honda uses 17″ rear tyres and 19″ front, these are a bugger to find.  The (European) Yamaha uses 18″ tubeless and meant for easy repairs, but still tricky to find tyres as most countries outside of Europe use an 18″ tubed rim.  Eventually I made the switch to tubes on the Yamaha as the tubeless rims were leaking through damage; dents and dings. Better of course is an 18/21″ combo such as on a Yamaha XT125.
One would think the Honda would be a better ride, and I think it was marginally, though it was marginal and it isn't to be considered a Dual-sport bike in this regard.
Essentially, several times with the Honda I had to turn back – though on bad, steep and high altitude roads.  The Yamaha never failed and I often thought on those few occasions on the Honda, "the Yamaha would have managed this."  I also pushed the Honda a LOT.
My recommendation therefore is to stick with small but look for fuel injected!  This will help with economy and high-altitude running and make long deserted stretches easier with regards carrying fuel, and maintain the advantage of parts availability.  Models I personally am looking towards, as a guide, are the Yamaha XT250 or WR250, both fuel injected.
BIKE PREP
The bikes have little in way of prep work.  I've had some simple racks welded on and I like to have engine bars, to protect the pedals more than much else.
In future I'll switch from the top box to a tank bag or probably tank-panniers, my old tank panniers wouldn't fit on the Honda.  This helps move weight forward and would save my food from bouncing around so much at the very rear (and most moving area) of the bike.  A top box is not recommended.
I used to have hand-guards, but don't find much benefit, more likely to break your wrist and your levers can still break.  However, they do provide wind protection in cold climes…so next time I'll try some simple plastic guards (without alloy rails).  I prefer to to trim the brake levers down to to a two or three finger like lever to help save them from breaking.  Mirrors break with or without the guards.
The Yamaha had a screen, but this broke in falls, and with the low speeds, especially on dirt, I didn't think it was really necessary and never replaced it.
I fit fork boots. And now have a tool tube.
As I camp almost always I also have to have some form of charging camera and head-torch batteries and, now, a kindle.  I therefore carry a charger (in the bike's standard OEM tool box) for AA/AAA (the camera has AA) and a USB socket from a simple car cigarette socket at the dash.

TYRES
I've had a lot of tyres, and lots of poor ones.
Duro have been really good buys, economical and tough (only one puncture from several of their tyres…bearing in mind I've had 76 punctures!).
A Bridgestone was also one of the few tires not to get punctures, but it cost a lot.
Metzeler lasted really well, but punctured as much as any other cheap tire.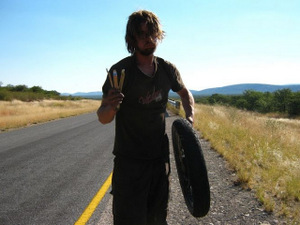 I've used Golden Boys and CRTs with no problems and I've just fitted a Pirelli MT21 at great expense, and a Rivaldi front. (Update see below)
Front tires are somewhat less important (grip aside) in that the lack of load on it means it rarely punctures(unless a MT60 POS) and lasts well.
In sand you can ride just anything as far as I'm concerned, I find a knobbly rear tends to dig-in, though of course I don't have much engine power too to drive this along, and a knobbly front will catch the edges of tire ruts in the sand, should it be a sandy road (as opposed to smooth untouched desert).  A smoother road-ish tire was better in sand.
In mud, well, if it's real sticky it tends to stick!  And, again, I don't really have the power to fling the mud out of even the biggest knobbles, but they do help.
If it's hard-packed red mud and wet you may as well fit skates and hope the road doesn't go uphill….for a 125 will just spin and slip lacking the power.
UPDATE (May 2013) I've used a few Pirelli tyres and been very disappointed.  MT60s are very thin carcuses and only two plies, puncturing very easily, they really are like bicycle tyres.  There are copies of the same tyre but with more plies and deeper tread, by almost all manufacturers.
All this above is new, and below most new info is in GREEN! to help you relax when stressing over packing!
PACKING AND GEAR:
Don't get too bogged down when first planning your list, it's simple, and might help to remember that it's just….
Tools and parts,
Camping and cooking,
Hygiene, (hardly a section at all)
Clothes,
…and paperwork.
People have the impression that I carry a lot, but I think this is a bit of a misconception, my Ortlieb panniers are only 40litres for the pair (most hardboxes are 40 litres or more each).  As well, as I camp almost every day so I have to carry a lot of food and water….
Below is an itemised list, which gives a complete packing list as well as recommendations on some equipment choices I have made or learnt.
But if you do have any questions, just ask….
GEAR

Click a section to expand/contract

Camping/Living   +

Tent [Terra Nova Voyager 2 person] –

 

*UPDATE* – I now use a North Face Rock 2, the first had had a lot of use!  I chose this as it was green, larger, had two doors, two porches, was cheapish, and importantly; freestanding!

Floor Foot print –

 




Just get a tarp

Additional pegs –

I now use shop racking hooks, having lost my pegs, or having them confiscated in the airports!  Sand pegs are a wise buy though. 

Sleep mat [Thermarest Prolite 4] – 

With 21 punctures the thermarest was toast….I bought an Exped SynMat Basic, and it was the best buy I've ever made.   Much more comfortable than the Thermarest, no punctures so far and no delamination issues like thermarest….though I'm more careful these days.

 

(UPDATE May 2013):  After two years the Exped has really reached the end of life, the valve's began to leak and are irreplaceable, I ripped it out in the end and stuck a tyre valve in with lots of liquid gasket, it worked.  Also the bed punctures where it wears at the joins between baffles, this is probably not an issue on their more expensive Ultralight version or the Synmat as the baffle design is different and, having tried one, much more comfortable….so my next purchase.




Sleeping Bag [Mountain Equipment Sleepwalker 1] – 

I'd been freezing my knackers off for far too long and bought a Mountain Equipment Helium 600, it packs smaller, is down (not synthetic), and much warmer than the synthetic bag despite closely matched ratings, I also got a good price on a good 'second'.




Sleeping bag water proof stuff sack [Ortlieb]

 

Sleeping bag liner

 

Travel Pillow [Thermarest]

With the purchase of the new Exped mat, I also bought their Pillow Pump, the thermarest is more comfortable, but this keeps the inside of my bed dry rather than inflating by mouth.



Water purifier [Katadyn] –

 




I dropped this, and despite it taking many falls off the bike, this time it hit the foot-peg and cracked.  To get by in this section of the trip (South America) I bought a Steripen off a guy I met.  I came to hate that Steripen.  It uses batteries, of course, gave a lot of errors and most importantly whilst it rids water of bacteria it leaves in

things like chlorine and fertilisers, minerals, heavy toxins, physical dirt which are common and even in tap water they often use excessive amounts of chlorine.   The battery warning light rarely signals meaning that when you come to need it it decides that actually the batteries are flat….It's also very easy to mistreat,

i.e. if you treat a bottle or a pot of water there's a good chance you'll miss a drop or two on the lid, or edge of the container and if the water is full of parasites, it only takes a drop….so I have read.  (UPDATE May 2013, the Steripen broke, probably from damp in the circuitry in wet Austral!)

Stove  [Primus Omnifuel] – 

Still going, somewhat strong, though the stove broke off its mount and meant a bit of a Heath Robinson repair with wire, and one of the leather pump seals tore….luckily I carried a spares kit.  Recommended.

Bike lock – 

Just broke from corrosion.  Not replaced.

Head torch and batteries – 

Originally I had a Petzl Myo XP.  Whilst the light output was phenomenal (you could probably ride by it!), the battery pack was mounted separately on the back of your head. This meant it was uncomfortable to lie with but, more importantly, the wire running from battery to lamp was prone to breaking.  The light output also meant you'd be seen by others from miles away, even on its lowest setting, not always what you want!  I now use a cheaper Diamondback which has the batteries in the lamp unit complete.


Camera – 

I've gone through a few of these, a droppable, waterproof, dust proof camera would be best, but I like to use AA batteries.  So, I currently use a Canon SX130 (EDIT, I broke that, now SX150!!), it's lasted pretty well, has been through several repairs and takes okay pictures.  If I can afford it and find space, I'll step up to DSLR next leg….




Ortlieb 4litre Water bags x2 – 

 

Day bag –


I originally just used my backpack to hold all my gear, then stolen I used a cheap duffell, but then made a great purchase, an Ortlieb Rackpack 49l.  This holds all my clothes and bed and sleeping bag…and keeps it dry!  They're also a pretty good price. Recommended.

Garmin Etrex –


This was a gift from my employer when I left to Africa.  I've still got it and use it for marking my camp spot each night.  I also use it for crossing deserts, solitary stretches, or salt lakes.  It has no maps.

Wind up radio – 

I sold this in a market in Guatemala as BBC had reduced its WorldService to SW and digital.  A sad loss.


Light My Fire flint/firestarter – 

Still going, getting thin now though.



Vango cookery pots. – 

.




One left, without handle…..still going though and cheap

Compass – 

Very Important.

Cup – 

Originally a plastic cup, I now have a cheap tin cup.

Spork –

What a silly idiot I was, a spork costs about $8 and lasts about as many minutes.  I now have a spoon.  

Pen knife – 

Originally a cheapie hanging around my besties shed, now a cheapie given as a gift.  Need only a knife, can opener and bottle opener.

Clothes +

Riding Suit

I'm on my third riding suit!  Now a BMW suit, a gift from Andres in Guatemala (Thanks!)  Whilst the suit is good, the vents excellent, the internal (though removable) waterproofing is a big problem, mainly because of the cold, it's essentially like wearing a cooling vest when it rains, meaning being very cold.  I've chucked the Goretex liners in favour of a plastic waterproof suit (importantly see "Waterproofs" below).  I personally think that a leather riding jacket and jeans, or kevlar jeans if you think necessary, would be better.  The reason I say this is that you look a bit of a wally (i.e. like a spaceman) in a riding suit in a little village in the middle of Bolivia and it's nice to blend in a little when you get off the bike and walk around town.

North Face convertible trouser – 

I think cotton trousers are better, tougher, cheaper and don't shout "gringo" quite so loudly….take ages to dry though!




Gloves from PEP in Namibia –

Without heated grips, I carry two pairs lightweight and waterproof, I've gone through a few pairs, and if you're going to ride bad roads, you've a good chance of a fall, no matter how slow, gloves are worth it I think.




2 T-shirts – 

I now carry 3(!) T-shirts.  In a lot of countries you can find used clothes markets and get very cheap buys….if you're lucky even goretex gloves!  I also have a long-sleeve shirt.

Pair of shorts

 

Blue midweight fleece – 

Replaced for a smaller (pack-size) RAB Quantum top, it's brilliant and keeps me warm in cold conditions at camp and, as it's synthetic, on the bike.  But I also have a fleece given to me, for when it's really cold!

Waterproofs – 

Originally I had some eVent gear from Rab.  They were both excellent, light and breathable, but sadly were stolen in Ethiopia.  The riding suits I've had were supposedly waterproof, but as I buy low-end suits the liners are poor and soon leak.  Later I was given a BMW suit with gore-tex liners (see above for problems). The problem area for me is always the crotch, with you bouncing in the seat on bad roads the waterproofs always wear and fail here…ask any motorcyclist where his waterproofs leak….I'm now using a cheap plastic oversuit, warmer than the liners (discussed above in "Riding Suit") but they will soon tear. I recommend Rab's Drillium jacket, excellent, and their trousers too, though even they leaked at the crotch.


Woolly hat

 

3 pairs of socks –


Four now, my feet are smelly.

3 pairs of undies – 

 

Motorcycle Boots –

Originally leather motorcycle boots, they offered good ankle protection but the toe always broke from kneeling in camp, setting up, or making bike repairs and so they leaked.  I've been using regular leather boots for a while, and my latest pair – a pair of Rockport work boots – are about the best I've had.  They cost $100, are tall ish, solid, waterproof and good all-rounders.  Again, as with the Riding Suit above, it means I look less of a wally in the street when walking around, and they are much more breathable than those horrid lined moto boots.

Tights!

I added a set of cycling bib-tights for the cold.  They work well, dry quick and pack small.

Scarf – 

Sadly lost this in Korea, and replaced it with a buff like thing.

Flip-flops –

Good for going to pee in the night, better than putting on your boots, just watch out for scorpions.

Tools/Spares   +

Tyre leavers

I always remember the local shop telling me I could "remove a 1-2-5 tyre with a set of spoons" (he actually meant cutlery, not the idiom for tyre levers) and he was wrong.  I have three levers, by Buzzetti, because – as another shop told me – "It's up to you, but we use these because they don't bend."  And he was right….and I could write a page on changing tires!

Super-glue

 

Spark plug

I carry several, mainly as the Honda plugs are hard to get as the locals don't understand the number system and stock one that will fit, but is actually wrong.

2 Spare inner tubes for bike 

I carry these regardless of tire type, originally tubeless tyres, now tubed.

brake and clutch cable

 

12v electric pump

Chucked, now carry bicycle pump, plus a tiny backup.  Much simpler, smaller, more reliable.

some good duct tape

Or as is more often when travelling, some crap duct tape

Tire repair patches/glue

Lots and lots and lots….

Chain oil

I usually use transmission oil 90w, it's cheap.  A Scottoiler perhaps? messy but good for the chain.  I've tried numerous sprays, not impressed, they take up space and cost a lot.

Tool kit

the original from the bike,plus sockets, 3/8 ratchet, short extension, spark plug socket, screwdriver (socket type) plus the hex, torx and screwdriver socket bits to fit it (smaller this way than individual screwdrivers and hex keys), electrical tester is priceless when you need it.

Spare Quick links for Chain


I've only ever broken one chain….and needed a chain tool then.

Rag to clean bike in zip lock bag –

I still have a rag, an old pair of underwear actually, but it's not in a ziplock….

Zip ties

 

Gear shifter – if this breaks you're stuffed

 

Wheel bearings

I think, unless you've just changed them recently, you should always carry a spare set of wheel bearings.  They are small, cheap and prone to break without notice.  (ask how many people took a trip and their wheel bearings broke!)

Air Filter –

I now carry two of these, one in the bike plus a spare.  The reason is the Honda filter is more time consuming to remove and so I clean one and run the other.  I have to clean the Honda filter a lot more too, mainly as it has to be really clean for the bike to run "well," especially at altitude.

Rim tapes –

Because the Honda has spoked wheels, I carry rim tapes.  A long nail tore the rim tape once.  You can make your own too from old tubes, as they are tricky to find.

Spare fuses (5A,10A,15A,20A,30A)

.

Small and light and cheap, and could save your bacon as they have mine.

Prop – Stand

.

The old YBR had a centre stand, the Honda didn't so I made a swing-arm/subframe mount for raising the rear/front wheel. I later had one made from steel (not plastic waterpipe as the first one) in Bolivia. It works better, with its forked head, but is too heavy….I'll make mark three soon. I met Adam who uses a graphite (?) walking (hiking) pole with two rubber feet, it is extendable and light….and hopefully doesn't slip off (chocking the front wheel helps)

Bathroom/Health  +

Soap

I usually now carry anti-bacterial gel, it's just easier and doesn't use vital water.

toothpaste

 

toothbrush

 

Tiny travel towel

Originally a travel towel (idiot) I now have a tea towel.




Toilet paper

Some people use a poo shovel, I use a rock to dig and I actually carry my used paper to the garbage.

Paracetemol in med kit


Add migraine meds too!

First Aid Kit

So far, rarely used, thankfully.

Lemsips

I rarely carry medicine now, it's usually not too far to get some.

Sewing Kit

 

Book 

  




One of my greatest purchases has been a kindle, for rainy days in the tent, much less space and English books can be hard to come by.

Sunglasses

 

iPod

Actually a Creative device, it broke




in Africa and has never been replaced, and with the purchase of the kindle not really missed.

Diary

 

Pen

 

Documents  +

Passport

48 page large one

Wallet,

I carry some cash, very little though really as ATMs are almost all over. I also carry a small amount of US$ which are good for borders or when stuck for ATM (Syria for example, where the ATMs don't accept foreign cards)

Map

Rough Guides make very good maps.

Copies of drivers license

Not so important, most borders have copy shops where necessary costing pennies.

V5/plus copies of

Replaced with Guatemalan papers for new bike




Copies of passport

 

International Driver's License and Int.Vehicle Doc

Whilst VERY rarely used, those few occasions were for crooked police who can use your lack of this – or any missing – document as leverage for "fines" (bribes).

Vaccination book/Yellow Fever certificate

Stolen!  Along with my diaries in Argentina.

Carnet du Passage

When needed, see FAQs about this document

Insurance

Most countries will offer vehicle insurance at the border where needed (not always).  As for personal insurance, it's up to the individual but for a long term trip outside of the US the cost of insurance is often higher than the costs of medical care, even my surgery in Kenya.  Most insurance won't cover motorcycle riders (certainly not over 125cc) and most only cover one claim per policy, add to that the insurance excess and it adds up to a waste of time.  A lot of what insurance offers you won't need, no flights, no baggage loss, no worry about delays, no possibility of cancellation and being robbed is – hopefully -unlikely, especially if you have a bit of smarts.